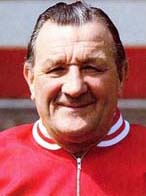 Birthdate: 23 January 1919
Birthplace: Hetton-le-Hole, England
Date of death: 14 February 1996
Other clubs as manager: None
Arrived from: LFC coach
Signed for LFC: 26 July 1974
LFC league games as manager: 378
Total LFC games as manager: 535
Honours: League Championship 1975/76, 1976/77, 1978/79, 1979/80, 1981/82, 1982/83; European Cup 1977, 1978, 1981; UEFA Cup 1976; League Cup 1981, 1982, 1983; Manager of the Year 1976, 1977, 1979, 1980, 1982, 1983
First game in charge: 10.08.1974
Contract Expiry: 01.07.1983
Manager Profile
Liverpool offered Bob Paisley the job of reserve team manager in 1954 and eventually his skill with the new electrical equipment made him the in-house physio. Don Welsh was first-team manager and continued to struggle as Liverpool adjusted to life in the Second Division. Meanwhile, after finding his feet in his new role, Bob Paisley's reserves, whom he inherited from Jimmy Seddon, began to make pleasing headway. In his second term at the helm Paisley guided the reserves to runners-up spot in the Central league. Phil Taylor, who had quit playing for Liverpool at the same time as Paisley, took over essentially as caretaker-manager after Welsh's sacking at the end of the 1955/56 season and having served his apprenticeship for a whole season it was reported on 1 May 1957 that: "At their weekly board meeting last night Liverpool FC directors appointed Phil Taylor as manager. Hitherto he has been acting manager only. While Mr. Taylor has been acting manager, the club did not fill the coaching position which he formerly occupied. They have now appointed Bob Paisley, at present second-team trainer, as chief coach." A series of near-miss promotion attempts ensued as the 50's turned into a frustrating decade for the Reds that ended with the blessing of Bill Shankly's arrival.

In 1971 when Shankly signed what was to be his last contract for Liverpool Paisley was promoted to assistant manager with Joe Fagan replacing him as first-team coach. Three years later, at 55 years of age, Paisley became the successor to Shankly. Some thought that Shankly had made a hasty decision he would later regret. New chairman, John Smith, offered him a contract on an increased salary, but it wasn't about money. Shankly had been at Liverpool for nearly 15 years and it was a terrible wrench to leave. He recalls in his autobiography that he suggested to the directors that "the only way to make the changeover was to promote the rest of the staff." He even added that he had "elevated them earlier with a view to what I was going to do later on." Having signed professional forms in May 1939, Paisley had already been at Anfield twice as long as Shankly and despite his reluctance to take the job, if the job was going to remain in-house, he was the only logical candidate. Paisley knew the club and the game inside out and was a fine judge of a player. He had an almost uncanny ability of being able to correctly diagnose an injury and treat it accordingly. But where personality was concerned Bob was totally opposite to Bill. He had been in the background for so long that the responsibility of dealing with the press was frightening. Paisley knew the enormity of the task at hand and confessed to the press: "It's like being given the Queen Elizabeth to steer in a force 10 gale." Chief Executive Peter Robinson confirms Paisley had to be virtually manhandled to accept the responsibility. "When we approached Bob he said no. In the end the Chairman, directors and I had to gang up on him."


While Paisley prepared for his first League game against Luton Town on 17 August 1974 Shankly spent his first Saturday afternoon in retirement watching his local home match; Everton - Derby County. Even though Paisley wasn't the darling of the media like Shankly he showed early on that he was also capable of a one-liner. When the press asked Bob what Shankly was doing this particular afternoon, he replied: "He's trying to get right away from football. I believe he went to Everton." Paisley's first season in charge was not a success, not by the high standards set by his predecessor anyway. The team fought hard to reclaim the League title but defeat at Middlesbrough on the penultimate weekend of the season meant their challenge was over. There was disappointment in the cups too with a late Ipswich goal at Portman Road putting the holders out of the FA Cup and Middlesbrough beating them in the League Cup at Anfield in November. Liverpool enjoyed their biggest-ever competitive victory with an 11-0 thrashing of the Norwegian part-timers from Drammen in the opening round of the Cup Winners' Cup but conceding a last-minute equaliser at home to Ferencvaros in the next round was a blow the team was unable to recover from and they eventually went out of the competition on the away goals rule a fortnight later. As things turned out, that 1974/75 season would be the only one during Paisley's reign that no silverware was won.
Continuity on the pitch was vital to the club's success. The sort of wholesale buying and selling that would be commonplace long after his retirement was not part of Paisley's agenda. Changes were made gradually and the newcomers integrated carefully into an already successful side. Phil Neal arrived in 1974 soon replacing Alec Lindsay, the only change to the regular 11 from Shankly's last campaign in Paisley's debut season. Terry McDermott, who had arrived from Newcastle, was having trouble adjusting as well as the final signing of the Shankly era, Ray Kennedy. In 1975/76 the most vital changes to Paisley's side took place in midfield. Peter Cormack's days were numbered following Paisley's successful transformation of Ray Kennedy into a left-sided midfielder and Jimmy Case was promoted from the reserves to replace the industrious Brian Hall. Liverpool's improvement on the road provided Paisley's team with nine more points to win the League Championship in 1976 as well as repeating Shankly's UEFA Cup success from 1973. Prior to the 1976/77 season Liverpool purchased David Johnson who slowly made his mark on the team while Joey Jones was preferred to Tommy Smith in defence. Liverpool retained the Championship and were unbeaten a home in the League, a feat Shankly only accomplished once in the top division, 1970/71. Liverpool embarked on a historic run in the European Cup in which young striker, David Fairclough proved vital as well old hand Smith who returned to centre of defence late in the season following Phil Thompson's injury. Shankly had seen his European dream crushed in 1965 at the hands of a dishonest referee, but there was no stopping Paisley's army. He put down a marker when Liverpool were triumphant in Rome in 1977.
Arguably the greatest signing Paisley ever made brought a new dimension to the side. Kenny Dalglish replaced Kevin Keegan as the catalyst at Liverpool, in 1977. Two months later Paisley made another key signing in Graeme Souness from Middlesbrough. The third Scot, Alan Hansen, had joined in May 1977. Paisley had formed the core of the side that was going to achieve more than any other previous Liverpool team. Amazingly Paisley won the European Cup for the second year running, but lost the League to Nottingham Forest. Winning can become a habit but Liverpool were winning in style, no more so than during the 1978/79 season when they scored 85 goals in their 42 League fixtures with Ray Clemence only conceding 16 at the other end. During the next eight years before he stood down in 1983, Paisley's teams won the English Championship six times and also won four European trophies as well as taking the much-maligned League Cup more seriously than before and achieving a hat-trick of victories in his last three seasons as manager, an achievement that would be added to in Joe Fagan's initial year in charge. The domestic success was remarkable on its own but to couple it with unparalleled success in Europe was almost beyond belief. Bob Paisley became the only man to coach teams to the European Champions' cup on three different occasions.
By the time he retired in 1983, Bob Paisley had been associated with Liverpool Football club for 44 years. He would continue to offer advice to his successor Kenny Dalglish for a couple of years before becoming a boardmember. With his mentor by his side Dalglish led the club to the League and FA Cup double in his first season in charge. There was some irony in that because the FA Cup was the one domestic trophy that eluded Bob as a manager. There were as many great games during Paisley's time in charge as there were great players. This can only be a general summary of an astonishing period in the club's history. Will there ever again be one man who serves a single club for so long and with such devotion and such success? The answer is almost certainly not. Knowing that the 1983 League Cup final would be the last time Paisley would lead his team out as manager at Wembley, the players graciously allowed their boss to climb the famous steps to collect the trophy on their behalf. A man who preferred to stay in the background had a special moment to remember, that is the one of the most heartwarming sights Liverpool fans have ever seen. A few weeks later Paisley walked out at Anfield for the last time as the man in charge to be presented with the Championship trophy yet again. Bob Paisley, the man who had to follow a legend, had become one himself.
Related Articles
Fortunately it's not too common for footballers to break their legs. One game this season saw two leg breaks. Back in the 1986/87 season, two Liverpool players broke their legs destroying their Liverpool careers.
Bob Paisley could always appreciate good footballers. Here he shares his views on the Great Jan Molby.
Rarely does the manager change his captain after the season starts. When Gerrard replaced Hyypia on 15th of October 2003 it was by no means a unique occurance at Anfield.
Bob Paisley's view of Kenny Dalglish.
Bob Paisley had incredible insight. Here are his views on midfield goalscorer John Wark.
Craig Johnston is under Bob Paisley's microscope
The Times report on Liverpool - Manchester City on 09.04.1977.
Bob Paisley looked to one player on the big occasion.
Bob Paisley had the best insight in football. Here is his view on Bruce Grobbelaar.
Bob Paisley puts the spotlight on one of the best utility players in Liverpool's history.
Bob Paisley gives his expert view of Liverpool's newcomer John Barnes. Has there ever been a better judge of a player?
Bob Paisley admired Gerry Byrne's courage in the FA Cup final when Liverpool triumphed over Leeds.
Bob Paisley profiles the Crazy Horse.
Chris Lawler was one of Liverpool's most consistent performers.
Liverpool born and bred Laurie Hughes started out at Tranmere but starred at Liverpool.
Sammy Lee could run and run. He was small in stature but had the heart of a lion!
Jack Balmer's career at Liverpool was no walk in the park.
The story of how Liverpool's greatest legend joined the Reds.
Bob Paisley's opinion on Alec Lindsay.
Eddie Spicer suffered the worst of luck regarding injuries. The second leg break of his career retired him.
How do you take over from a living legend?, is the first question Bob Paisley poses in his profile of the Liverpool great, Peter Thompson.
Paisley knew players better than anybody else. Here is his view on Mark Lawrenson.
Bob Paisley was a great judge of players and in the 1986/87 season he looked at the players of Liverpool FC and treated us to his point of view on them.
Republishing of the first chapter of Liverpool's exploits in Europe now including a video of the dramatic Inter Milan - Liverpool clashes where a certain Spanish referee bumped LFC out of Europe.
Shankly's parting gift to Liverpool was the F.A. cup so for the third time the club entered the Cup Winners' cup. LFC fan Chris Wood tells us Liverpool's European journey.
Frank Keating reports on Bob Paisley's funeral. From The Guardian on 22.02.1996.
David Fairclough was born few feet away from Anfield, and his dream came true when he signed for the Reds. He played his part in Liverpool's success in the 1970's, but wonders what might have been.
Paul Tomkins' book, Dynasty, is a reassessment and an in-depth analysis of every manager of the club over the last 50 years.
Alan Kennedy not only scored the winning goal in one European Cup final, but was destined to clinch Liverpool's success in two! A European legend for Liverpool and a winner of five League titles. It was an honour for LFChistory to interview this tremendous ambassador of Liverpool FC.
Daily Mail report on Chelsea – Liverpool 4-2 on 9 January 1978.
From Liverpool Daily Post on 20th July 1974.
LFChistory.net wanted to get to know the man behind the myth and what drives Bruce Grobbelaar.
The question is what Ian Herbert, who is the Independent's chief sportswriter and former deputy editor of the Liverpool Daily Post, can add to Bob Paisley's legacy.
Related Quotes
"Tommy hated losing and was quite prepared to put himself through all manner of pain and suffering to avoid it. There was an element of notoriety about it which I think he quite enjoyed, but if any opponent cared to put that reputation to the test, Tommy didn't disappoint them.

His fearless nature not only unsettled the opposition, it inspired his team mates. They drew strength from his example. It was little bit like having a big brother around to sort out any trouble you got into. Seeing Tommy racing on to the field after having a couple of stitches inserted into a head wound could put courage into the most cowardly of hearts – as long as you were on his side!"
Bob Paisley on Tommy Smith
"Alan Hansen is the defender with the pedigree of an international striker. He is quite simply the most skilful centre-half I have ever seen in the British game. He is a joy to watch. Alan has always been an excellent footballer, a beautifully balanced player who carries the ball with control and grace.

He has a very measured, long stride and is much faster than he looks. I can't think more than a couple of players who could beat him over 100 metres. He has both the ability and the patience to launch attacks from deep positions."
Bob Paisley on Alan Hansen
"Terry McDermott once got us hysterical in the dressing room, laughing at Bob Paisley's expense. The boss had a habit of saying the word "doings" all the time. He'd refer to opposition players as "doings" instead of naming them. So Bob comes into the dressing room and starts a talk.

Terry stood behind him with a big grin on his face and every time Bob says "doings" he holds a finger up. By the time he gets to six, Terry is starting to titter and we're trying not to laugh. Ray Kennedy is kicking me and when he gets to 10, Ray just turns and flees into the toilet, he's in absolute fits. We were like a bunch of schoolkids."
Phil Neal
"I said that when I took over that I would settle for a drop of Bell's once a month, a big bottle at the end of the season and a ride round the city in an open top bus!"
Bob Paisley
"With the character and attitude he shows they'd make him Mayor of Liverpool if he was a few inches taller."
Bob Paisley about little Sammy Lee
"The injury he suffered at Goodison Park at the start of the year was as ill timed, as it was painful. It was painful to look at, never mind to experience. I've seen one or two broken legs in going on fifty years in the game, but not one made me really wince, Jim's did. Jim had a 30 game run in the first team behind him."
Bob Paisley on Beglin
"There was only one Bob Paisley and he was the greatest of them all. He went through the card in football. He played for Liverpool, he treated the players, he coached them, he managed them and then he became a director. He could tell if someone was injured and what the problem was just by watching them walk a few paces. He was never boastful but had great football knowledge. I owe Bob more than I owe anybody else in the game. There will never be another like him."
King Kenny on Uncle Bob
"My first match at Anfield was at right-back for Aston Villa. The roar from the Kop was awesome as Billy Liddell waltzed down the wing making us look like idiots. Then I began to recognize the source of Liddell's magic. He was Liverpool's inconspicuous craftsman at left half, Bob Paisley."
Former Spurs' captain and Aston Villa player Danny Blanchflower
"Immediately after retiring as a player, Bob talked about going into the fruit and veg business and he also considered taking a newsagents. It was a massive wrench to finish playing."
Albert Stubbins recalls the end of Bob Paisley's playing career
"It was definitely a crisis time when Bill left. It was a bombshell and Bob was very reluctant to take the position as manager. When we approached him he said no. In the end the chairman, directors and I had gang up on him."
Former LFC chief executive Peter Robinson
"Bill depended a lot on Bob. They were like the terrible twins when they got going. I think Bill needed Bob. I think he calmed him down a bit."
Nessie Shankly
"Bob and I never had any rows. We didn't have any time for that. We had to plan where we were going to keep all the cups we won."
Bill Shankly
"I asked Phil Neal and Ray Clemence if they got telegrams from the boss when they were on international duty. Phil said they did, with the message 'Good luck'. I told them the boss sent them to me when I was away with Wales. The message he put on was, 'Keep out of trouble'."
Joey Jones
"I think when he first succeeded Shanks, he was a bit overawed. I'll never forget him standing in the dressing room in the summer of 1974 on the first day of pre-season training and telling us: 'Shanks has gone and they're giving me the job even though I didn't really want it. But we must try to carry on what he's started' He saw it as his duty to take the job. Yet he set an incredible record that will never be beaten. Things just snowballed for him after that first season. For me, he was a better coach than motivator of men, but a shrewd judge of a player and very strong tactically."
Ray Clemence on Bob Paisley
"My first game was against Queens Park Rangers at Anfield early on and I miskicked with my right foot - the one I use for standing on - and knocked a policeman's helmet off. I also conceded a couple of corners and made a few errors. I just wanted half-time to come to get some reassurance from the manager but when I got back to the dressing room, Bob said to me, 'I think that they shot the wrong Kennedy!'"
Alan Kennedy on Bob Paisley
"Bob was so down to earth. A common phrase of his was: 'If the floor needs sweeping, I'll pick up a brush and do it'."
Kevin Keegan on Paisley
"As a former headmaster, I thought I was pretty hot at weighing up people and situations. But you have to be quick and alert to keep up with this fellow! I've watched many matches not involving Liverpool with him and very little escapes him. When a goal is scored, he'll have the complete move analysed in a flash and he'll often emphasise the contribution of players running off the ball who were not directly involved. You might not even have been fully aware of them yourself. Every scrap of information was stored in his memory. He astounded me by recalling detailed incidents of matches we saw a long time ago. He wasn't given to chatting for long periods on the journey home. That was probably when he was concentrating and reflecting on what he'd seen at the game, which he'd instantly be able to recall."
Tom Saunders, former Liverpool youth development officer on Paisley
"He bought players and moulded them together to create great teams. People talked about him as 'Uncle Bob', but he was as ruthless as they come. Anyone who worked under him, as I did, knows that. He could be hard but he went about it in the right way and was quite gentlemanly about it, for all his rough edges. He had a genius for creating teams."
Phil Thompson on Paisley
"Although Bob Paisley always seemed to be super cool, deep down it wasn't always so. He was the kind of his person who hung his emotions on his sleeve. And you could best spot this in the dressing room before kick off. By 2.45, you could tell what he was going through by just looking at his face. He would be pacing up and down the dressing room taking sips of water. He looked more nervous than the players, although he did his best to try and not show it. I don't think everybody realised that but I could see it."
Ian Callaghan on Paisley
"There is no magic formula, there is no mystery about Anfield, it's just down to pure talent. Bob Paisley epitomises that and I am amazed that people in football, who ought to know better, do not accept the fact. He is on the same level as Sinatra in his field and nobody should question his talent. It's not the fact that he's got a bigger band or sings on bigger stages, it's just down to ability. The man oozes talent and he talks more common sense than ten of us managers put together and he probably works harder than ten of us put together as well!"
Brian Clough on Paisley
"Bob pinpointed strengths and weaknesses better than any manager I've ever played for or ever met. He wasn't great with words but when he did say something, you always took notice because ninety-nine times out of a hundred he was spot-on. He had this line about the first two yards at the top level being in your head. When he first said it to me I thought it was rubbish. But the more I played the game, the more I realised it was so true."
Alan Hansen on his former boss
"I go by records and Bob Paisley is the number one manager ever."
Alan Hansen on Paisley
"People who sit in the stands perhaps don't realise the extra pressure exerted by the emotional side of the game. It's not easy to cope with and it's quite possible to become drunk on four ounces of wine gum!"
Bob Paisley
"The secret is that our Liverpool team never know when to stop running and working. At Anfield we have always believed in players supporting each other and concentrating on not giving the ball away. You can't go charging forward all the time, willy-nilly. You must have patience, and this is where we can play the Continentals at their own game."
Bob Paisley
"I was to learn that praise from Bob Paisley was rather like a snowstorm in the Sahara. He may have been regarded as a fatherly figure by the supporters but, let me tell you, he ruled at Anfield with a rod of iron. You could tell when he was about by the changed atmosphere in the dressing rooms and training ground. He was a commanding man and there were few who dared mess around with him. If we looked as though we were becoming a little complacent or if we were not performing up to the standard Bob would say, 'If you have all had enough of winning, come and see me and I will sell the lot of you and buy 11 new players.

Another time he warned: 'I am only a modest Geordie but get me cornered and I am a mean bastard'. But it would be wrong to give the impression that we all walked around in fear and trepidation. He always kept a velvet glove on."
Souness on Paisley
"The whole of my life, what they wanted was honesty. They were not concerned with cultured football, but with triers who gave one hundred percent."
Bob Paisley on the Kop
"Though I hope to have a few more seasons still in senior football, I am studying to be a physiotherapist and masseur when my playing days are over. We married men have to look to the future, you know."
Bob Paisley in 1950
"Bob's knowledge of players and the game in general is unsurpassed. Football has known no equal in management or prize-winning, but his modesty and dignity were overwhelming as he led this club from one triumph to another. His name will always be synonymous with Liverpool."
Liverpool chairman David Moores on Bob Paisley
"My dad was a Man City fan and I told him I would like to bring a young man home. He asked me what he did for a living. I said he was a footballer. At this response, my dad looked pretty grim because he thought footballers were all drunken hooligans. I then told him that Bob was a professional footballer but this impressed him even less. So I told my Dad that he was a bricklayer as well. 'Oh, that's much better,' said my dad. 'He's got a proper job'."
Jessie Paisley on how she introduced Bob to her family
"I was nervous as a kitten. I had on my best suit, shirt and tie, my best bib and tucker. I went down to reception and the doorman spotted me and said 'Mr Paisley is waiting for you in his car outside'. When I got in the car I saw that Bob was wearing slippers and a cardigan. I couldn't believe it. That was my first meeting with Bob Paisley and I knew I'd come to the right place. They'd just won the European Cup and there was this fellow, who everyone in football thought was an absolute god, driving me to the ground in his slippers and cardigan! I thought 'you'll do for me!'"
Mark Lawrenson was signed from Brighton late one Friday night and deposited at the Atlantic Tower hotel for safekeeping,
"Keep it simple, don't complicate things. He loathed all soccerspeak; he wouldn't have recognised a Christmas-tree formation if it had toppled on to him. "What does getting round the back mean?" he would ask. "We're not talking about burglars are we?"
Expressed by one of his most loyal lieutenants, Joe Fagan, Bob Paisley's soccer credo amounted to this.
"I was always interested in physiotherapy when I was a player. I took a correspondence course for two years before I hung my boots up. Then Sir John fixed me up with a full-time course. It meant going to Belmont Road hospital from nine to five every day. It was all changing then from what it had been through most of my playing days. Then it was the hot and cold water treatment. Trainers had to have hands like leather. There was hardly a player who got by without suffering first degree burns at some time or other. You put the hot towel on and then the cold one, it was the main treatment. The first person I ever treated was Albert Shelley, our first-team trainer, for a boil on his backside. Albert was one of the old school. He taught me how to harden my hands with the towels. When the physio machines came in I had to show him how to use them, but he never really came to terms with them. He had a common-sense approach to the practical side of it, but he was frightened by the electrical stuff, he even used to put a handkerchief on the leads. So when the machines came in I virtually took over the treatment of all the players."
Bob Paisley
"In my first year as manager, I made a habit of counting to ten before I made a decision. I was cautious, deliberately. I took my bends wide instead of hugging the rails, probably because I was keen not to trip up. Now I'm learning, now I count only to two before I make a decision."
Bob Paisley in the Liverpool Echo on 5 May 1979