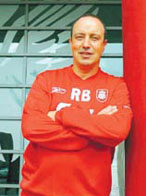 Birthdate: 16 April 1960
Birthplace: Madrid, Spain
Other clubs as manager: Valladolid, Osasuna, Extremadura, Tenerife, Valencia, Internazionale, Chelsea, Napoli, Real Madrid, Newcastle, Dalian Professional, Everton
Arrived from: Valencia
Signed for LFC: 16 June 2004
LFC league games as manager: 228
Total LFC games as manager: 350
Honours: Champions League 2005
European Super Cup 2005
FA Cup 2006
First game in charge: 10.08.2004
Contract Expiry: 03.06.2010
Manager Profile
Rafael Benítez was not, and nor did he ever claim to be, a great footballer. He was, however, good enough to be part of Real Madrid's youth academy in the early 1970s before playing lower-league Spanish football for clubs Castilla (effectively Real's reserve team), Parla and Linares. He continued his academic studies whilst playing at this level. At the age of 26, by which time it was clear that he was not going on to have a great professional career as a player, Benítez was invited to join Real Madrid's coaching staff and he managed the club's Under 19 and reserve teams as well as becoming assistant manager for the senior team. In 1995 he left Real for unsuccessful spells at Valladolid, sacked after two victories in 23 games in La Liga and 1st division Osasuna, sacked after just one victory in the first 9 games. He finally had some degree of success when he led unfancied Extremadura into La Liga at the end of the 1997-98 season. Unfortunately, their chances of surviving there were always slim as they had a small squad and a small budget. Defeat in the relegation play-offs saw them return to the Second Division but the manager did not stay to try to take them up again. Benítez wanted to learn more and he took one year off in 1999 to study training methods at Manchester United, Arsenal and in Italy. Benítez returned with Tenerife in the 2nd division and the Canary Island club were promoted to La Liga in 2000-2001 in his first season. The reputation of this relatively unknown manager was rising and it was almost inevitable that bigger clubs who had been following his progress would one day show an interest.

Valencia had not won the Spanish title since 1971 when 41-year old Rafael Benítez took over from Hector Cuper in June 2001. Valencia was doing well in Europe reaching two successive Champions league finals, failing to win either of them. Valencia only managed 5th place in Cuper's last season, 17 points behind champions Real Madrid, after finishing 3rd the season before. Valencia's fans expected a big-name appointment following Cuper's move to Inter. Benítez wasn't Valencia's first-choice, but probably the board was later relieved they were denied by more illustrious names. Valencia fans who had felt Cuper's approach to the game was too cautious, were soon won over by Benítez when he introduced a more attacking style. Ruben Baraja, Pablo Aimar, Fabian Ayala and captain David Albelda who became the basis of his team had been bought the previous season. However the club's stars; Gaizka Mendieta and Claudio Lopez had left for Lazio. Benitez brought with him two players from Tenerife, Migel Angel Mista, who finished as Valencia's top scorer in 2003-2004 with 19 goals and right-back Cristobal Curro Torres. Benitez kicked off his Valencia career in style by beating Real Madrid 1-0 on the 25th of August 2001. His rotation policy caused a few upsets, sometimes resting his best players, but he was confident his system would get the results. Benítez' tactics earned Valencia their first title in 31 years, winning it by a good margin of seven points over Deportivo La Coruna.

Valencia failed to follow up to their title success. Benitez' team finished only fifth in the 2002/03 season, 18 points behind Real Madrid and with 15 points less than the season before. Benitez' first season in the Champions league proved to be a valiant effort, but fell short of his own ambitions. Valencia were paired with Liverpool in the Champions League first group phase. Valencia defeated Liverpool 2-0 and 1-0 but were knocked out in the quarter-finals by Inter on the away goals rule. Benítez began preparations for the 2003-2004 season under a cloud. Valencia's Director of Sport Jesus Pitarch, refused Benítez' plea to finance a proven goalscorer and signed instead against his wishes winger Néstor Canobbio. Benitez was outraged: "I asked for a sofa and they bought me a standard lamp." Despite difficulties, Benítez' side was crowned champions with three games to go and he was obviously delighted: "A month ago it looked pretty hopeless. We were eight points behind Real Madrid. But we never lost focus and knew this was a marathon. The team is a great long-distance runner and maintained a very high rate of form for a long period of time. Two championships in three years isn't easy - especially for a club of Valencia's size. But we have great professionals, who are also great human beings. This has helped us enormously." Valencia also beat Marseille 2-0 in the UEFA Cup final and a very successful season was in place, but Benítez' rift with the club's board hadn't healed. When Liverpool's interest was evident Valencia offered Benítez a better deal, but it was too late. He had decided to go to Liverpool. Benítez' philosophy seemed to suit Liverpool perfectly: "My ideas are near to the Milan of Arrigo Sacchi, I like technical and aggressive teams that don't allow the opponents to play. I like teams that play the ball with speed and look to score with as few passes as possible. My Valencia team is a mixture of youth and experience."

Guillem Balague, Sky Sports' analyst in Spain and self-confessed Liverpool fan was delighted with Benítez' capture: "He was at one point obsessed with detail but he has corrected that and improved his relationship with the players. He got rid of the players that he thought weren't with him and has stuck by those who were committed to his style of management. Since then they have reaped the benefits with success both at home and in European competition. His teams might be solid at the back but they are certainly given a licence to attack. He is a studious person and a very scientific coach. He uses computer technology to monitor his players' diets and physical development, and is keen to discover how he can apply computers to his football. He still maintains a little distance between himself and his players and is a disciplinarian. There is a famous story of him banning his players from eating paella on Sundays, which is a Spanish tradition. I would take him above every other coach in Europe. He speaks very good English. He would have no problem communicating with the players. He is a football man, a very big football fan and is a fan of English football. Liverpool would become like the great AC Milan team. Defending as a unit but always attacking as one as well. He would change Liverpool and he would make them a force again. He appreciates English football and knows all about Liverpool. He is still young for a manager and would enjoy the challenge of taking over one of the great teams in football. I am confident he would be a massive success at Anfield."

Before Benítez' first season in English football had even started in earnest, the new manager had to persuade his captain Steven Gerrard not to move to Chelsea, although a similar attempt to convince Michael Owen to extend his contract proved fruitless, the striker deciding to move to Spain instead. Benítez inherited from Houllier a good squad but it's probably fair to say not a great one. He immediately brought in from Spain Luis Garcia and Xabi Alonso and would in time recruit other players from his homeland. His first League season at Liverpool was a huge disappointment. Eleven of the nineteen away matches were lost and the team eventually finished in 5th place immediately behind their city neighbours Everton. It was the cup competitions that would build momentum as Rafa's debut season reached a thrilling if unlikely climax. Although humbled by Burnley in the third round of the F.A. cup, Liverpool reached the final of the other domestic cup competition before losing to Chelsea after extra-time. In Europe, though, a remarkable journey that began in Austria in August ended in Turkey in May with Rafael Benítez proudly holding the European cup aloft after a truly astonishing final with A.C. Milan. Some of the home legs during that epic run were reminiscent of the great evenings of the past in previous decades. The Anfield crowd immersed itself happily into the euphoric atmosphere of the evenings in particular that saw Olympiacos, Juventus and Chelsea beaten on Merseyside.

It was a hard act to follow but Rafael Benítez had quickly cemented himself into the hearts and minds of Liverpool's huge worldwide fan-base. Domestic success followed a year later after an F.A. cup final versus West Ham every bit as tense and dramatic as the European final in Istanbul. The team's League form remained inconsistent, not good enough anyway for any sort of serious challenge for the championship. But on the European stage, Liverpool became the opponent most other clubs both respected and feared. Rafa's tactical awareness was a match for any of his managerial colleagues on the continent. He lead Liverpool to the Champions League final for the second time in three years against AC Milan. Liverpool's comeback came too late in Athens. 2007 was also the year in which the American partnership of Tom Hicks and George Gillett arrived on the scene. Their arrival seemed a significant watershed in the club's fortunes as well as the manager's aspirations. Money was found to bring in some of the players the manager wanted like Fernando Torres, Yossi Benayoun and Javier Mascherano. For the first time under his tenure, Benítez led Liverpool to the summit of the Premier League after thrashing Derby County 6-0 on the first day of September 2007. However, European results were not as positive and this led to a public falling-out with the club's owners that the media couldn't seem to get enough of. The fans showed their public support for a manager whose position was undermined still further by an apparent attempt by the Americans to bring in Jürgen Klinsmann to replace him. Benítez continued to insist that he saw his future at Liverpool for many more years and he brought in the popular Sammy Lee to be his assistant manager. But it was clear that a serious power-struggle was developing between the club's manager and its Board of Directors. The Board's failure to sanction the purchase of Gareth Barry from Aston Villa in the summer of 2008 was just one of many 'differences of opinion' between the two parties. Another was the signing of Robbie Keane, arguably against the manager's wishes, which led to further friction between the manager and Chief Executive Rick Parry. In March 2009 Parry announced that he would be leaving at the end of the season; and in the same month Benítez signed a new five-year contract that would take him up to the year 2014. Liverpool ran Manchester United very close for the 2009 Premier League title and hopes were high that Liverpool would go one better in 2010.

Early exits from the two domestic cups followed a miserable Champions League campaign in 2009-10. Although the team reached the semi-final of the inaugural Europa League, Premier League results and performances were often woeful and the team finished the season in 7th place, just high enough for a Europa League qualifying place but nowhere near high enough to keep the supporters happy … or the club's Board. Liverpool Football Club was no longer a member of the so-called "Big Four" of English football, the clubs that would compete in the Champions League. Nineteen competitive defeats placed even more strain on an already fractious relationship between manager and owners. Proud and defiant to the end and continuing to insist that he had no desire to leave Liverpool, parting of the ways that was pretty much inevitable finally came to pass on the 3rd of June 2010. The extended contract signed only the year before seemed to entitle the departing manager to a heavy sum in compensation for being dismissed; however, the sum eventually agreed was reported as being less than 50% of the original sum he was apparently entitled to.

Rafa's reign ended after six seasons, an era that had begun with the hope and belief that the glory days really were returning to Anfield. Sadly but maybe not surprisingly following the change of ownership of the club in 2007 and all the ensuing problems that occurred, the last four years were not only trophyless but left many supporters wondering how and why such a proud and dignified man had been allowed to depart in such an acrimonious way. Less than a week after being dismissed by Liverpool, Benítez was appointed as head coach of European champions Inter Milan. Benítez' spell in Milan was an unhappy one. Although his team won the Italian Super Cup and the FIFA World Club Cup, poor league form left them at one point thirteen points adrift of the top club. He demanded that his squad be strengthened with new signings but failed to receive the backing he wanted and was dismissed by Inter two days before Christmas in 2010. After nearly two years without a coaching role, Benítez was approached by Chelsea after Roberto di Matteo had been sacked and he agreed to take charge of the west London club as interim first-team manager until the end of the 2012/13 season. Rafa's quote from 2007 sounds a bit hollow now to many Liverpool supporters. "Chelsea is a big club with fantastic players, every manager wants to coach a such a big team. But I would never take that job, in respect for my former team at Liverpool, no matter what. For me there is only one club in England, and that's Liverpool." Despite saying that,Benitez agreed to become Chelsea's interim-manager even though it was immediately clear that he was not welcome by a large section of the club's fan-base. He took Chelsea to a third place finish in the Premier League as well as guiding them to the semi-final of the FA cup (which they lost) and the final of the Europa League (which they won). A week after the English season ended, the Spaniard signed a two-year deal to manage the Italian club SSC Napoli. Rafa Benitez has since then managed Newcastle United, Real Madrid, Dalian Professional in China and most controversial of all, Everton, where he proved an unpopular choice.
Related Articles
Rick Parry and the Liverpool board had one man particularily in mind when replacing Gerard Houllier. His name: Rafael Benitez.
Benitez left around 100 Reds fans stunned in March 2005 when he walked into Jamesons bar in Cologne city centre.
Article from liverpoolfc.tv
Guillem Balague's article in The Observer on Sunday May 22, 2005.
What a difference a year makes. 12 months ago today, Gerard Houllier was enjoying his last ever day as Liverpool manager. Who back then would have predicted Liverpool would be contesting their most important match in 20 years a year later?
Andy Roxburgh interviews Rafa Benítez in October 2005.
The side that plays Manchester United tomorrow bears the mark of a manager who has figured out the English game. Article from the Guardian on 21.01.2006.
Bení­tez has transformed the club's fortunes with improvements in four areas, writes Dominic Fifield in the Guardian.
Article from the Guardian By Jason Burt. Published: 06 February 2006.
BBC Sport spoke to Benitez's biographer Paco Lloret to get a better idea of the man Rafael Benítez. Published 6 December 2005.
Match report from The Guardian on Liverpool - Fulham on 15.03.2006.
Dominic Fifield from the Guardian at Yokohama International Stadium on 18th of December, 2005.
An article from the Independent By Andy Hunter - Published: 13 May 2006.
An article from The Guardian on 18th of November 2006 on Liverpool's poor away form in the 2006-2007 season.
An article by Oliver Kay in The Times on 11.01.2007.
There was optimism and much expectancy among Liverpool fans that 2006/7 would see Liverpool challenging for the Premiership. Alex analyses how Liverpool have coped against the top sides.
An article by Andrew Tong from The Independent on 8th of April 2007.
James Lawton from The Independent reflects on Rafa's tactics vs. Chelsea in the 1st leg Champions League semi-final on 25.04.2007.
An interview with Steven Gerrard by Paul Eaton on 30 January 2007.
The Guardian on 4 January 2008
Our analyst, Alex, decided to look at Rafa's league results at Liverpool by league position, it doesn't make for pleasant reading.
LFChistory.net interviewed Ian Rush recently and here is an outtake from this exclusive interview that will be online next week.
As Rafael Benitez prepares for his new life as manager of Liverpool Football Club he spoke at length about his Anfield arrival and his hopes for the future.
LFChistory.net's very own Chris Wood says his goodbyes.
Brilliant scribe Tony Evans interviews Rafa Benitez on 18th November 2009.
BBC press report on Valencia - Liverpool 17th September 2002.
Interview by Rob Draper at the Daily Mail on 6th March 2011.
An interesting interview with Rafa from Titan Spor from 27 August 2009.
Chris Wood's review of "Champions League Dreams : Rafa Benitez" written in conjunction with Rory Smith.
The Sunday Independent on 3 October 2010.
Analysis by the Daily Mail on 22 October 2009.
Published on the Liverpoolfc.tv on 3 June 2010.
Jimmy Rice on liverpoolfc.tv on 23 October 2009.
An article from the Daily Telegraph on 24 March 2009. Former assistant coach Paco Herrera revealed all about the revolutionary changes implemented by the Spaniard in his first five years at the Merseyside club.
A full match report from the Telegraph of the Champions League game between Liverpool and Lyon at Anfield on Tuesday Oct 20 2009.
RAFA can eclipse even the great Bob Paisley if he claims his 50th Reds league win on Saturday. Published in the Liverpool Echo on 8 December 2006.
By Chris Bascombe, Liverpool Echo on 24 January 2007.
The Telegraph on 19 October 2010.
Declan Sloan has put together a complete record of every South American player to wear the famous Red Jersey, from Mauricio Pellegrino in 2005 to newly recruited Roberto Firmino.
"At a football club, there's a holy trinity - the players, the manager and the supporters." - Bill Shankly
Published by the Daily Mail on 22 February 2019.
Related Quotes
"If you understand Carra, you'll understand everyone"
Benítez to Morientes when he arrived at the club
"It [football] reminds me of a game I used to play when I was about 12 or 13. It was a military game called 'Strategy' You had 40 pieces - a general, lieutenants, surgeons, bombs - and you had to capture the other person's flag. One time I lost so I spent all night thinking about the game and the strategy. Once I understood all the rules and the strategies I didn't lose again."
Benítez in March 2005
"In my time as a player and manager I certainly haven't seen the likes. In fact, the doctor at Melwood said to me that in 23 years he's never known anything like the amount of injuries we've suffered this season. I just touch wood that we are now over the worst. It's not my style to use injuries as an excuse for poor results and I'm not about to start now. True, we had had a lot of players injured but there's nothing we can do about that now. We just have to get on with things and make the best of what we have available."
Benítez on the 2004-2005 season
"We are preparing a special weightlifting plan for Gerrard's shoulders because we want him to lift a lot of trophies for Liverpool in the next few years! I am not in favour of selling him and we are building a great team around him because we want him to be the skipper who wins the most titles in Liverpool's history."
Rafa about Stevie G in June 2005
"I don't think we've changed anything about how we defend from last season. I think it's just down to time - we've been working with the boss for longer now and I think we now understand what he wants from us better. A year ago, we'd only been with the manager for six months and it takes time to change things at any club. We were used to playing one way before Benitez arrived and now, 18 months on, we're used to his style, his tactics and the way he wants us to play.

The zonal defending system is a good example of how things take time to perfect. I don't think many of the players had played it before because throughout most of our careers we've always gone man-to-man in the box but as soon as Rafa drilled it in to us what to do, I don't think we had many problems adjusting to it. The defence isn't perfect yet but as long as we keep working hard in training and during matches, we should improve further still."
Steve Finnan in December 2005
"As a squad we are beginning to realise and notice that his ideas are coming together and coming to fruition. He's playing a style which he wants and playing that style with players he wants in that group. It's important those two things come together. We are now seeing a Liverpool through the eyes of Rafa Benitez."
Morientes on Rafa Benítez' Liverpool in Dec 2005
- "I am a very proud man today because all managers like to arrive at the best clubs and we know Liverpool is one of the most important clubs in the world. I can say Liverpool is a joy. My office here is 20 metres long and eight metres wide, it is bigger than the oval office in the White House. I can see the training grounds and it's incredible, like being in another world."

"It feels as if I have been on a permanent honeymoon since I arrived here, I am on a cloud and I feel as if with Liverpool I have found the love of my life."
Rafa appreciates life at Liverpool
Speaking to Marca, Rafa stated: "I received congratulations from people all over England and Spain. Ferguson sent me a very strange one with a tactical evaluation - on his personalised paper - of Liverpool's performance in the whole competition, and particularly the final."
Benítez explains he had been inundated with correspondence following his team's dramatic triumph in Istanbul, but had been left slightly bemused by Ferguson's offering
"It would have been a lot easier for the fans if the parade was taking place on a nice day, but considering the bad weather it was even more amazing to see so many of our supporters come to see us. There was one youngster who must have ran alongside the bus for 15 minutes singing 'Rafa Benitez'. When you see this, you realise what it means to our supporters."
Benítez on the FA Cup victory parade in 2006
"There's a huge difference. Rafa and Pako have got a completely different way of training. We train harder, we train for longer and we work harder than we used to. Everything is about tactics as well. You know that they know what they are doing and that's the main thing. If you ask Pako, he tells you what we will be doing in training in two weeks time. That's unusual because when sometimes things don't go right, people change things. What he does is very impressive.

We work on tactics almost every day and if you look at our goals against record, that is a massive improvement. We played Valencia a few years ago when Rafa was in charge there and that was probably the hardest game ever for us. It was hard to get the ball and once we had it, we couldn't play. We got beat 1-0 at home and I think we only had half a chance through Emile Heskey. We were completely outplayed and couldn't get anywhere near them. When you work with them and see the way they train us now, you can see why Valencia played the way they did."
Hamann on the difference between Rafa and Houllier
"Rafa Benitez reminds me of Shanks. He understands the game, how to get the best from individuals, how to change a game with substitutions and his tactics are sound. He has gradually built a squad that looks far stronger than last season, combining class, pace, excellent movement and strength in depth."
Tommy Smith on Rafa in the summer of 2006
"If you analyse the leagues in Europe, normally only the top teams with a lot of money win trophies. The rest just try. In the last two years we have won four trophies, including the most important in the world, the Champions' League. A lot of managers at top clubs do not have the Champions' League in their cabinet.

We won 12 games in a row, kept 33 clean sheets and won 82 points in the Premiership last season so we know how to win and play well in the League. It is difficult for foreign managers to adapt to the Premiership but not a lot of managers can say they have won four trophies in two seasons. Chelsea, with two Premierships, the Carling Cup and the Community Shield, are the only ones. I don't know how many English managers have been abroad - Toshack, Kendall - but it is not easy. So to win the Champions' League with a new team, another language and a new style of life, is very pleasing for me."
Benítez defends his managerial record at Liverpool in November 2006
"He doesn't sleep! He's always thinking about football. You cannot have a chat with him out of football. Everything is football. You can see him on the street and ask how are you?, and he'll say 'I'm fine, I'm thinking about the next game'.
Luis Garcia on Rafa's talent as boss
"Playing against a small team it is not always easy when they have nine men behind the ball all the time. One team wanted to win while one team came not to lose. We controlled the game and had all the possession, and they had one chance from our mistake. After that we controlled everything."
Rafa's famous quote after the Merseyside derby on 3rd of February 2007
"If Rafa said he wanted to buy 'Snoogy Doogy' we would back him. Rafa's feeling is we need more depth because of the rigours of the schedule to be competitive. That's where the genius of the manager is so essential and that's where Tom and I have to defer to his background and genius."
Liverpool's co-chairman George Gillet in May 2007
"Rafa has already achieved the third highest points tally in our history; a total big enough to win 16 of our 18 titles is now regarded as a mere platform on which to build a challenge!"
Steven Kelly in Liverpool Daily Post on 1st of August 2007
"It is a really positive day for the club to be in the record books and get the go-ahead for the new stadium makes a lot of people really happy. It's almost a perfect day."
Why not perfect?
"They had one chance," smiled the perfectionist Reds manager.
Rafa Benítez in November 2007 after the record Champions League win vs. Besiktas
"After the game, Sheila, who was sitting right in line in the main stand, said to me that the ball had crossed the line. She was a very honest person so that was good enough for me. It was a goal."
Rafa Benítez on Luis Garcia's goal vs Chelsea in the Champions League semi-final. Sheila Walsh his private secretary, left no doubt in his mind on the validity of the goal!
"My first fortnight at the club was inhumane. Rafa Benítez criticised everything I did, from the way I did some basketball practice to how I played my football. But now I am grateful to him for filling me in on how the team works."
According to Alvaro Arbeloa his first two weeks at Liverpool were no picnic
Even after five years with Rafa, I still feel I want to please him, that I want to impress him in every game I play. The great managers are like that. There are a handful operating on a different level and I am lucky enough to play for two of them, Benitez and Fabio Capello.

'It is when you see what they put in, some of the little things they spot, that you realise how hard they work. Rafa will make a point, and you'll be thinking, "Has this guy not got a life?" because it seems so minor, but it is what sets him apart. 'I can have a good game – tell you what, I'll be big-headed, say I've had a fantastic game – we've won 2-1 in the last minute and I've scored both.

'I come back into the dressing-room and I'm buzzing, bouncing off the walls, thinking "I feel good today", that is when Rafa comes up and starts talking about a throw-in when they changed the play and I pressed far too late. He'll say: "If you want, we'll go out there and I'll show you". Or you'll have a run of 10 games when you're in form and flying and he'll pop you a DVD of your recent play and it's broken up into sections good and bad. And you're thinking, "Hang on, bad? I didn't do anything wrong". But you'll watch it and you're out of position in one match, or you pressed late or you let a man go at a set-piece. You wonder when the guy sleeps.

'At first when he did things like that, I'd be asking, "Has he not watched my last 150 games for Liverpool?" There is a danger that you think he has it in for you because he pulls you so much. 'When he arrived, he would keep saying to me "Left foot, left foot" or I'd shoot and he would say "hit the target" and I'm thinking, "Look, mate, I'm trying to hit the f***ing target". 'I would say to people "I'm 26 – if he doesn't think my left foot's working now, it's never going to work" but then a few weeks later I scored with my left and he came up with a little smile and said "lucky goal today, left foot and it hit the target" and then the penny dropped. 'Finally, I realised it was the way he helped push you on and as a player you either recognised it or fought it and, with these guys, if you fight it there is only one winner.
Gerrard on Rafa in September 2009
I decided to sign an extension because the squad was good and the money was going to be there. But the conditions changed. We've had a bad season and hopefully things will be different in the future, but at the moment I can't talk about the future because I don't know what's going on. I left Valencia because conditions changed. It was not a question of my money that I stayed at Liverpool. I said 'no' to other massive offers. I decided to stay under certain conditions and they have changed. The players share the same frustrations. I know how they feel because I've been talking to them all season. The season has not been good, that is clear. We know why and what has to change.
Rafa claims promises broken in April 2010
We don't have a style of play. I watched Blackburn Rovers and Aston Villa the other night and you could see the style of both teams and what they were trying to do. When we go out and play, and the last week has just emphasised it, we don't have a style of play. Nobody can say 'this is how we're trying to play' because you cannot see anything. It seems to be a case of getting the ball and pass it to whoever is square of you. Today it was punt it up the park time but the other night against Reading it was just square ball after square ball. We don't have a system that we used to have when Liverpool got the ball and then were all moving and you could see who was playing to who and who went where. You could see the movement and read the game ahead because the players were reading the game ahead. Apart from the most boring football, it has been diabolical and when the cameras cut to the fans they're looking at it with a glazed look in their eyes. They can't understand it.
Ian St John is fed up by Benítez' tactics on 17th January 2010
"We have a saying in Spanish: 'White liquid in a bottle has to be milk. What does this mean? It means that after 86 points and finishing second in the league, what changed? "The Americans, they chose a new managing director and everything changed. The managing director is involved in all the decisions: new lawyer, new chief of press, new manager, nine new players, new medical staff, new fitness coaches - they changed everything. So, white liquid in a bottle: milk. You will know who is to blame. White liquid in a bottle. If I see John the milkman in the Wirral, where I was living, with this bottle, I'd say, 'It's milk, sure'."
Rafael Benitez launched a cryptic attack on the club's ousted owners and managing director Christian Purslow in October 2010.
When Benitez was appointed at Liverpool, it was between him and Mourinho. I know that for a fact. Mourinho wanted the Liverpool job massively. But Liverpool basically went with Benitez, because he'd just won the Spanish league title and UEFA Cup with Valencia and they thought that was more solid an appointment than someone who had only done it in Portugal. I know Mourinho was massively disappointed. I'm gutted too because Benitez came in and didn't want me, I'm just gutted it wasn't Mourinho because he might have wanted me to stay!
Danny Murphy on talkSPORT in September 2016