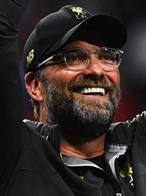 Birthdate: 16 June 1967
Birthplace: Stuttgart
Other clubs as manager: Mainz 05 (2001-08), Borussia Dortmund (2008-15)
Arrived from: Free agent
Signed for LFC: 8 October 2015
LFC league games as manager: 277
Total LFC games as manager: 411
Honours: Champions League 2019, 2019 The Best FIFA Football Awards Coach of the Year, European Super Cup 2019, FIFA Club World Cup 2019, 2020, 2022 League Managers Association's Manager of the Year, Premier League Manager of the season 2019/20, 2021/22, Premier League 2019/20, 2020 The Best FIFA Football Awards Coach of the Year, League Cup 2022, FA Cup 2022
First game in charge: 17.10.2015
Contract Expiry: 30.06.2026
Manager Profile
Like many top-class managers, as a player Jürgen Klopp was solid, if unspectacular, spending his entire career at FSV Mainz before taking up the reins there for his first steps into management upon retirement in 2001. Going on to become their longest-serving manager, Klopp's reign was notable for the club being promoted out of the Bundesliga 2 into the top flight for the first time in their history. During their three-year excursion as a Bundesliga team, they also played a preseason friendly with Klopp's future employers Liverpool in August 2006, where they demolished Rafa's charges 5-0! At the end of that season, however, Die Nullfünfer were relegated in 16th place. Klopp declared his intention to stay on but resigned at the end of the following season as Mainz finished fourth, just outside the promotion places.

Klopp was not to be out of work for long, however. In May 2008, he was hired by Borussia Dortmund, who had finished in an unglamourous 13th place in the 2007/08 season. Klopp's appointment immediately paid dividends, winning the DFL Supercup and raising the squad from thirteenth to sixth. The next season, their final position increased again, as Dortmund finished fifth. It was in the 2010/11 season, though, that Klopp's Dortmund really made an impact and made a European household name of their charismatic manager. BVB won their first league title in nine years, being crowned champions with two games to spare and by an eventual margin of seven points. It was not enough for Klopp, and the next season Dortmund did it again, this time with a German-record-breaking tally of 81 points, and stringing together an incredible 28-match unbeaten run. The team also beat Bayern Munich 5-2 in the DFB Pokal to earn the first domestic double in their history. More success was to come in the 2012/13 season, as Borussia escaped a Champions League 'Group Of Death' to battle all the way to the final at Wembley Stadium, where a last-minute Arjen Robben goal saw Bayern Munich take the honours at their expense. Yet the bearded one remained upbeat, looking on the bright side and saying: "The only thing I can say is that it was great. London is the town of the Olympic Games. The weather was good, everything is OK. Only the result is sh*t."

Reaching the Champions League final proved to be the zenith for Klopp in Germany – an injury-ravaged 2013/14 season saw them exit the Champions League at the quarter-finals and fall to second in the league. Dortmund's form dipped alarmingly in 2014/15, which, often finding themselves occupying the relegation places and ultimately finishing seventh and losing the cup final. Klopp announced in April 2015 that he would not be staying at the club and when Brendan Rodgers was sacked on 4 October that year, Liverpool moved quickly to appoint him four days later. He marked his arrival in the city by having a pint at the Old Blind School bar on Hardman Street, posing for pictures with passers-by.

At his opening press conference, Klopp described himself as "The Normal One" and Liverpool as a "Special Club". He stated that everyone connected to the club needed to go from doubters to believers. His impact was instant and he led Liverpool to both the League and Europa League finals, but both ended in defeat. The memorable run to the Europa League final against Sevilla in Basle included a round of 16 victory over Manchester United and in the quarter-finals, the Reds were drawn against his old club Borussia Dortmund. After a 1-1 draw in Germany, Liverpool looked to be heading out when Dortmund led 2-0 and 3-1 at Anfield, but a tremendous comeback was completed with Dejan Lovren's injury-time winner.

League form in 2015/16 was disappointing, with Liverpool eventually finishing eighth. As they progressed in Europe, Klopp often rested his best players ahead of domestic games, but club owners FSG had seen enough to hand him a contract extension, tying him to the club until 2022. The following season the league was clearly priority and Klopp led the club to a first Champions League qualification since 2014. For a few weeks in November the Reds topped the table, but a disappointing run of five games without a win in the New Year put paid to any title hopes and the final points total of 76 was seventeen behind Champions Chelsea. There was also up disappointment in January with defeats to Wolves in the FA Cup 4th round and Southampton in the League Cup semi-final.

2017/18 was the season when Klopp clearly made people sit up and take notice that Liverpool were back on the big stage. Had Sadio Mane not been harshly sent off when the Reds were 1-0 down against Manchester City at the Etihad Stadium (a game they would go on to lose 5-0), the Premier League season may well have panned out differently. They eventually finished fourth, securing Champions League qualification on the last day as City ran away with the title and a record-breaking points tally. However, in Europe's premier competition itself, Klopp led the Reds on a glorious run to the final. They hit seven past both Maribor and Spartak Moscow in the group stage, then thrashed Porto 5-0 in Portugal in the first leg of the round of 16. The quarter-final saw Liverpool draw against Manchester City, who were brushed aside 3-0 at Anfield in the first leg. In the second leg, Reds trailed 1-0 at half-time but came from behind to win 2-1 and set up a semi-final tie with Roma. The Reds cruised to a 5-0 lead at Anfield before being pegged back by two late goals. In Rome, they lost 4-2, but the fourth goal came in injury time so progress to the final never looked in doubt. Sadly in Kiev the Reds were defeated 3-1 by Real Madrid, two of the goals down to horrendous goalkeeping errors by Loris Karius.

Klopp had demonstrated in 2017/18 his ability to seek out good players and nurture them into great ones. The signing of left-back Andy Robertson from Hull for just £8 million was a classic example of his shrewdness. Robertson was rarely used in the first three months of the season, but behind the scenes at Melwood he was being taught Klopp's way of playing. When his opportunity came due to Alberto Moreno's injury, Robbo took it and by the end of the season was one of the best attacking full-backs in Europe and had been handed the Scotland captaincy. Another trait Klopp has in the transfer market is not to panic buy. When it was clear in the summer of 2017 that Southampton would not sell defender Virgil Van Dijk, he stuck with what he had until the next transfer window, when a world record fee of £75 million for a defender was paid to bring his first-choice target to the club. Van Dijk has more than repaid that sum since, coming second behind Lionel Messi in the Ballon D'Or awards in 2019.

Under Klopp, Anfield has once more become a cauldron and a place where visiting teams fear. The atmosphere for European games is unique and in the Premier League, Liverpool remained unbeaten at home in both 2017/18 and 2018/19. Klopp has an unbelievable knack of having all the players like him and run through brick walls for him, even if they have been out of favour. Players such as Divock Origi and Xherdan Shaqiri do not get ample game time, but there are never any complaints and when interviewed about it, their response is always the same; that it is about the group and team, doing things together not as individuals. Melwood is a place of work but it is a fun one, as clips released of players singing happy birthday to teammates in several languages have shown.
Klopp signed a two-year contract extension to 2026 on 28 April 2022.
Related Articles
By Martin Samuel - Sport for the Daily Mail. Published: 22:30 BST, 2 June 2019
Andy Hunter at the Estadio Metropolitano on 2 Jun 2019.
Klopp was relieved after beating Spurs in the Champions League final on 1 June 2019.
24 September 2019 on the Players' Tribune.
Oliver Kay dug deep for the October 2016 issue of FourFourTwo.
by Uli Hesse Published 5 October 2015 for FourFourTwo.
Related Quotes
"With Klopp, he was a football madman: pressure and counter-attack. Instead, Tuchel (Dortmund's coach) has changed our lives. Now we command the game and I have more freedom to attack. Thanks to him I now make myself more useful."
Henrikh Mkhitaryan on his former Dortmund boss in Gazzetta dello Sport in March 2016
"He always stood up for his team and he's a bit like a father for the players. Also, for the Liverpool fans, when they see they've got a coach who gives his all they'll back him. Klopp is a very good coach. One day he could be having a laugh with you and, the next day, if you got it wrong in training, he'd come and have a go at you. He knows when to be your friend and he also knows how to be the boss — and that's one of his strengths."
Robert Lewandowski in Mail on Sunday on 31 January 2016
"I have always said that the moment I feel I am no longer the perfect coach for this extraordinary club, I would say so. In the past days and weeks, I was not sure whether I was not the perfect coach anymore, but I couldn't say that I was either, so I saw it as my duty to inform [sporting director] Michael [Zorc] and 'Aki' [Dortmund chief executive Hans-Joachim Watzke]. I have nothing up my sleeve, but I also do not intend to take a sabbatical."
Klopp on the end of his Dortmund career
'There are moments when the grand spectacle of it all convinces you to put aside any regrets. Even if you concede at the last minute or five minutes into stoppage time. That was an extraordinary show. Just 10 minutes earlier, I saw Klopp looking at me with the game going on. I asked: "Why are you smiling?" He replied: "Aren't you having fun?" 'I said: "so much" and he added: "me too." He was losing at the time.

Daniel Sturridge scored a superb late equaliser as the game finished 1-1 in their league clash. 'Even after the equaliser, remembering that moment, we hugged like two old friends. I'm sure he would've done the same even if Liverpool hadn't equalised. 'The Premier League has this joy of football.'
Chelsea boss Maurizio Sarri in Corriere dello Sport in September 2018
"Yes, he is exceptional. Yes, he is outstanding. If anybody who's with us still doesn't see the quality of Jordan Henderson, then I can't help him. Is Hendo the perfect football player? No. Do I know anybody who is? No. Is he unbelievably important to us? Yes!"
Jürgen Klopp on Jordan Henderson on 2 January 2020.
Van Dijk inspired Liverpool to victory against Bayern Munich on 13 March 2019 in the Champions League. The £75m defender had Liverpool's hierarchy playing with superlatives. Co-owner John W. Henry tweeted "75 per cent of the earth is covered by water, the rest by Van Dijk." Klopp was equally complimentary in his press conference: "You could write a book about his skills, his strengths, how much I like him, what a fantastic person he is," Klopp said after the game. "He's so young, already so mature, so strong, all good."
Klopp and John Henry on Van Dijk
"Analytically, Dortmund stacked up very well relative to expected performance,' Gordon told Sports Illustrated. "I called Jurgen and we had an extraordinary conversation, and it was pretty clear to me by the time I hung up that he was the right person. We arranged a meeting in New York City, had a lengthy discussion late one night and the following day, and it was very straightforward. This was the perfect choice. He's a polymathematical guy. I spent 30 years as an investor speaking to some of the best CEOs in the world, and Jurgen is right up there with them. If he wasn't managing a football club, he could be managing a Fortune 500 company."
Mike Gordon, the president of Fenway Sports Group, in January 2020 to Sports Illustrated
"There's hope and it's football. We are not in a situation where we say it will happen 100% but it's football. The character of the boys....two of the world's best strikers are not available and we have to score four goals to go through in 90 minutes. As long as we have 11 players on the pitch we will try for 90 minutes to celebrate the Champions League campaign to give it a proper finish. That's the plan. If we can do it, wonderful. If we can't do it, let's fail in the most beautiful way."
Jürgen Klopp in his press conference before Liverpool beat Barcelona 4-0 in 2019.
"We want to be the club where everyone with a Scouse soul wants to play. If you love football, if you are talented, if you are ready to work hard then we want you to be here but for that we need to show the boys that there is a way through. This is a club where you can have pretty much everything. You can train together with world class players. You can train together with them and you can ensure you can improve as much as you can and the club will give you a chance. The dream in the long-term is that we have a team full of Scousers. Why not? They would fight like crazy."
Klopp in the press conference on 7 July 2020 before the Brighton-Liverpool game