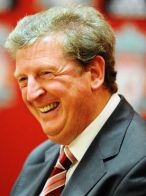 Birthdate: 9 August 1947
Birthplace: Croydon, London
Other clubs as manager: Halmstads BK, Bristol City, Örebro, Malmö FF, Neuchâtel Xamax, Switzerland, Inter, Blackburn, Inter (2), Grasshopper, F.C. København, Udinese, United Arab Emirates, Viking, Finland, Fulham, West Bromwich Albion, England, Crystal Palace
Arrived from: Fulham
Signed for LFC: 1 July 2010
LFC league games as manager: 20
Total LFC games as manager: 31
First game in charge: 29.07.2010
Contract Expiry: 08.01.2011
Manager Profile
Excluding joint-partnerships (Barclay/McKenna & Evans/Houllier), Roy Hodgson became Liverpool Football Club's eighteenth manager when he signed a three-year deal to succeed Rafael Benitez from the first day of July, 2010.

But Roy's journey to Merseyside was very definitely a "long and winding road". Considering his long and varied experience as a manager or coach, his playing career was very modest. Crystal Palace was his only professional English club but he never managed to break into the first-team there. After leaving Palace, he had three spells with non-League clubs in Kent (Tonbridge, Gravesend & Northfleet and Maidstone United) and it was at the third of those clubs that he first cut his managerial teeth, being assistant manager for a while.

After leaving Maidstone Hodgson resumed his playing career at Carshalton Athletic, quite close geographically to where he had been born at Croydon in 1947. But before his 30th birthday he had left British shores for the first but certainly not the last time and moved to Sweden, where he took his first management position with Halmstads BK. His impact there was instant as Halmstad won the Swedish championship in both 1976 & 1979. Even more than three decades later, this achievement is still ranked as one of the biggest-ever success stories in the Swedish domestic game.

His success in Sweden led to an approach from an English club, Bristol City, whom he joined in 1980. But his spell with the West Country club was brief and unsuccessful, mainly because City had big financial problems at the time. In 1983 he returned to Sweden to manage Örebro SK for two years and Malmö FF where he led his club to the Swedish championship in 1986 and 1988. As well as achieving considerable domestic success at Malmö and thereby enhancing his growing reputation as a coach, Hodgson also came to other countries' attention by defeating Inter-Milan 2-1 on aggregate in the European Cup.

So impressed were Malmö by Hodgson's ability that they offered him a lifetime contract. But the wanderlust that was evident in his later managerial career was still apparent in his forties. At the age of 43 he moved to Neuchâtel Xamax in Switzerland, where he oversaw famous European victories over Glasgow Celtic and Real Madrid, before he agreed to take over the Swiss National team in 1992. By a curious twist of fortune that is often witnessed in football, the man he replaced as Swiss manager, Ulrich Stielike, took over his old job at Neuchâtel.

Despite being in a strong qualifying group that included both Italy and Portugal, Roy led Switzerland to the 1994 World Cup Finals in America, where they reached the Last 16, at which point they lost to Spain. Switzerland qualified just as comfortably for the 1996 European Championships in England but between qualifying and the tournament finals starting Roy Hodgson had become Inter Milan's manager, the Italians no doubt impressed by the work he had done that at one point had taken Switzerland into third place in FIFA's world rankings.

Without Hodgson's guidance, Switzerland failed to make the knock-out stages of Euro 96 but by then he was well into his rebuilding process in Milan, improving the club's league position and taking them into the UEFA Cup at the end of the 1995-96 season. In 1997 Inter's League position improved again, to third, and they also reached the 1997 UEFA Cup final, where they lost on penalties to the Germans Schalke 04. A year later Inter reached the same final but although the team that Hodgson built was this time successful (defeating Lazio 3-0 in the first UEFA Cup final to be played at a neutral stadium), the man himself was back in English football, having been enticed by Blackburn Rovers' millionaire owner Jack Walker in the 1997 close season. Only two years after winning the English championship, Rovers were struggling at the wrong end of the table. Although Hodgson took Blackburn into a UEFA Cup place, his second season was an unmitigated disaster with injuries, some strange purchases and some dressing-room unrest being blamed for the club's change in fortunes. Marooned at the bottom of the Premier League table as 1998 turned into 1999, the manager was inevitably dismissed.

Hodgson reflected on his time at Blackburn after he had taken charge at Liverpool: "Blackburn was the only place I have been sacked and that was somewhat harsh. I took a team which had avoided relegation by one point into European football and then lost four of the very best players – three to injury and one to a forced sale to Rangers – the following year. Admittedly the start of the following season was not as good and we built up expectations but it is difficult for me to see Blackburn as a complete failure. I did make mistakes there; you always make mistakes when you fail somewhere. I have analysed those failures but I don't think they were quite as blatant as some people would like to think." Roy Hodgson had a brief second spell in charge of Inter Milan before again moving to Switzerland to coach the Grasshopper club in Zurich. Undeterred by any damage to his reputation following his time in charge at Ewood Park, he was short-listed for the England manager's job after Kevin Keegan's resignation but the post went to Sven-Göran Eriksson.

Having now passed his 50th birthday, Roy returned to Scandinavia … but this time to Denmark … to take control of F.C. Copenhagen in May 2000. Shortly after securing the Danish Superliga title in 2001, he broke his contract and took the Udinese job in Italy but despite a promising start only lasted six months before he was dismissed, allegedly for saying that he regretted taking the job in the first place! In April 2002 he agreed to manage the national team of the United Arab Emirates but was again dismissed after only a short period in charge, admitting after his time in the U.A.E. "That was a period where I didn't know where my career was going. But all these experiences enrich you and it was good to know I could get my message to players who many say are uncoachable."

The setbacks at Udinese and in the Middle East did not destroy Hodgson's enthusiasm or belief in his own ability. Far from making him unemployable or a risk not worth taking, he seemed to be in as much demand as ever, taking the manager's job at Viking Stavanger in Norway before adding to his Scandinavian curriculum vitae by taking over as coach to the Finnish national team in August 2005. However, Finland failed to qualify for the Euro 2008 finals and although linked with the England job again (as well as a similar post for the Republic of Ireland), it was another English club, Fulham, who came calling a few days before the end of 2007.

Given the resources available … and the expectation of most of the club's fan-base, Roy Hodgson's two and a half years at Craven Cottage can only be regarded as successful, despite the absence of a worthwhile trophy that realistically Fulham aren't seriously expected to compete for anyway. Threatened by relegation as his tenure as Fulham boss began, he masterminded a 'Great Escape' that saw survival ensured with a victory at Portsmouth on the final day of the Premier League season. A year later Hodgson led Fulham to their highest-ever Football League position (7th), a position that ensured qualification for the 2009-10 Europa League … and against all the odds they not only finished in a very creditable 9th place in the Premier League but also marched on to the Europa League final itself, knocking out in the process the previous year's winners Shakhtar Donetsk and overturning a 3-1 first-leg deficit to defeat Italian giants Juventus on aggregate.

Ironically in view of what eventually happened later in the year Hodgson's old club might have met his new club in the Europa League final in Hamburg when the clubs were put in different sides of the semi-final draw. But while Fulham beat the final hosts Hamburg, Liverpool were knocked out by Atletico Madrid, the team that would break Fulham's hearts in the final just as they had broken Liverpool's in the semi-final.

Roy Hodgson was voted The League Managers Association Manager of the Year for 2010 by a record margin. On taking the Liverpool job at the age of 62, he said "This is the biggest job in club football and I'm honoured to be taking on the role of manager of Britain's most successful football club. I look forward to meeting the players and the supporters and getting down to work at Melwood". After his second day at Melwood he added "I have had a terrific welcome from supporters and staff. I always knew Liverpool fans were special and the reception I have received from them has been superb. I would like to place on record my thanks to them."

Multi-lingual Hodgson had managed clubs in six European countries as well as managing three national teams at the time of his Liverpool appointment. His achievements on the European mainland have been considerable. Because of the unrest surrounding the ownership of his new club … and that club's poor performance during the final season of his predecessor … there was no doubt that the new man would be under considerable pressure from the start to (a) improve the team's fortunes and (b) build a team that is capable of challenging for the major prizes again.


After a wretched first half of the League season that saw just 7 victories but 9 defeats from the opening 20 matches, the pressure that was piling up on the new boss reached breaking-point. Three days after a miserable defeat at Blackburn Rovers, Roy Hodgson left Liverpool 'by mutual consent'. Former Liverpool player and manager Kenny Dalglish was appointed to replace Hodgson until the end of the season.
Roy Hodgson was not out of work for long. On the 11th of February 2011, so slightly more than a month after being relieved of his responsibilities at Anfield, he was appointed to succeed Roberto di Matteo as Head Coach of West Bromwich Albion. With the Baggies used in recent years to fighting against relegation from the Premier League, ihe did wonders with the club, so much so he was appointed England manager. Following a disapponting Euro 2016 where England was knocked out by Iceland in the last 16, Hodgson was relieved of his duties. Hodgson took over at Crystal Palace in September 2017. He seems well equipped to keep teams in the Premier League and he has so far been a success at Palace.
Statistics
| Competition | Total | Won | Draw | Lost | Goals for | Goals against |
| --- | --- | --- | --- | --- | --- | --- |
| Grand totals | 31 | 13 | 8 | 10 | 41 | 33 |
| League | 20 | 7 | 4 | 9 | 24 | 27 |
| FA Cup | 0 | 0 | 0 | 0 | 0 | 0 |
| League Cup | 1 | 0 | 0 | 1 | 2 | 2 |
| Europe | 10 | 6 | 4 | 0 | 15 | 4 |
| Other | 0 | 0 | 0 | 0 | 0 | 0 |
Matches that are won or lost in a penalty shoot-out are counted as a win/loss not as a draw.
Related Articles
A detailed look at Roy Hodgson's mentality towards football and what the players can expect at Melwood.
Joe Cole became Roy Hodgson's first signing for Liverpool.
Match report from Liverpool Echo on FC Rabotnicki - Liverpool on 29.07.2010.
Liverpool Echo match report on Liverpool - Arsenal on 15.08.2010.
Liverpool Echo press report on Liverpool - Blackpool on 02.10.2010.
The Independent report by Ian Herbert at Anfield on Liverpool 0 Wolverhampton Wanderers 1 on 29.12.2010.
Liverpool Echo report on Blackburn - Liverpool on 05.01.2011 by James Pearce.
Liverpool Echo press report on WBA - Liverpool on 02.04.2011.
By Brian Kettle at This is Anfield.
The Guardian on 4 October 2010.
Published on liverpoolfc.tv on 1 July 2010.
Published on 11 May 2010.
Written by "Paddytheflea" on 16 April 2010.
By MARTIN SAMUEL in the Daily Mail on 29th June 2010.
Published on 1 July 2010 on liverpoolfc.tv.
"At a football club, there's a holy trinity - the players, the manager and the supporters." - Bill Shankly
Related Quotes
Pass and move, always move it quickly and once you lose it get back in to position. That was the mantra which took Liverpool through their great years. I like a high-tempo passing game. I like players to work hard, I like players to get back in position. Those are my principles. I was influenced by the Liverpool team which dominated the 70s with all its great players and playing the football they played.
Roy Hodgson wants Liverpool reach their heights again by evoking the Liverpool style of old
"Roy is a great manager, a great man and a football man and I am sure the players will love him. He talks football, drinks football and has a great capacity to make teams work together. Wherever he has been across Europe, his teams have worked and played for each other and he has made his players improve. He is a man with great experience who attends all the big tournaments. He is very close to the people and all I can say is he is the right man for Liverpool."
Gerard Houllier on Roy Hodgson's appointment on liverpoolfc.tv
"Undoubtedly, he is one of the most important coaches or trainers (in Swiss football) in the past 30 or 40 years. Not only because he took us to a World Cup and a European Championships, but because he gave us confidence to believe in ourselves. I think this confidence transcended into other sports. He was the king. We called him King Roy – the royalty of Swiss football – just like Kenny Dalglish at Liverpool. This is in a country where we don't care about monarchy as well."
Florian A Lehmann, a football writer with Zurich daily newspaper Tages Anzeiger, lauded Roy Hodgson in LFC Weekly
"It is easy to say the right things but it is not words Stevie wants, he wants actions. He wants to see the club make strides forward. He wants to see that alongside players of his quality, there will be other players of that quality being signed by the club and, of course, he is wise enough to know that I cannot give him that guarantee and he wouldn't respect me if I was trying to give him some line of bullshit that he would see through. My job with him is to try and explain to him that I have come to Liverpool because I want to work with people like Steven Gerrard. And I'm hoping that he will have enough loyalty to the club and will be interested enough to work with me and give it some time together. It is really just a question of trying to sell myself and what we are going to do to him and hope he buys into it."
Roy Hodgson tried his best to convince Steven Gerrard that he was the right appointment for Liverpool
"Liverpool need someone who has an understanding of the history and heritage that lies behind the club and what it means in the context of English football," he told the Daily Mirror. "People spoke about [José] Mourinho but I personally didn't see him as an ideal fit with Liverpool because right now, they need someone who has an empathy for the club. I admire Roy Hodgson. He has a philosophy of playing good football which will fit well at Liverpool, and he gives players responsibility and a platform to work from. Maybe it is time Liverpool had an English manager who knows about the club. Roy is a talented manager who succeeds because he works incredibly hard," he added. "He instils confidence in his players and has a style the players can enjoy. His success has been a mix of a lot of things, but primarily hard work. He has real tactical knowledge too – in a way it has come from Roy's Italian [managerial] roots, it is an Italian style."
Danny Murphy supported the hiring of Fulham's former boss at Anfield
Players bought
| Player | Club | Fee | Date |
| --- | --- | --- | --- |
| Joe Cole | Free Transfer | Free | 21 July 2010 |
| Danny Wilson | Rangers | £2,000,000 * | 21 July 2010 |
| Fábio Aurélio | Free Transfer | Free | 31 July 2010 |
| Christian Poulsen | Juventus | £4,550,000 * | 11 August 2010 |
| Brad Jones | Middlesbrough | £2,300,000 | 18 August 2010 |
| Raul Meireles | Porto | £11,500,000 | 29 August 2010 |
| Paul Konchesky | Fulham | £3,500,000 * | 31 August 2010 |
| Suso | Cadiz | Unknown * | 31 August 2010 |