The editor of LFChistory.net, Arnie and columnist Sigfus Gutttormsson met Phil Neal for an exclusive look at his prosperous career. 650 games and a bunch of medals. The only LFC player who played in all five European finals. Right-back Phil Neal is truly one of Liverpool's legends.
Sigfus and Neal
You played 417 games in a row for Liverpool between 23rd of October 1976 to 24th of September 1983. A Liverpool record. How is that possible?
There were two occasions when I could have missed a game. One was when I got a fractured cheekbone. Roger Davis the centre forward at Derby gave me an elbow (on 24th of January 1976). I went in on a Sunday after it occured on Saturday. I had my cheekbone lifted in line with the rest of my face to put my face back in shape. By the way it's never recovered. Come middle of the week I was walking around the training ground watching the players train. We were playing West Ham that Saturday, which was a good footballing team. Bob Paisley came to me on Wednesday and said: 'How you're feeling?' I said: 'I'm ok. I'm over the op and everything else.' I chose to play against the specialist's wishes who said that I shouldn't play for a month. I got away with it.
I got over a broken toe, but I had to play for six weeks with size 8 ½ on one foot and size 7 on the other. Ronnie Moran made me a plaster cast on the little toe I had broken. It was uncomfortable with my normal size shoes. I had to find some way to be still able to kick a ball, tackle and maybe have a little injection to keep the pain away for 90 minutes.
There were little incidents when I could have missed a game but I was doubly determined not to. It was so exciting. I didn't miss a day's training in all those years I was there. I wouldn't ring in for a cold. Every day I had a smile on my face. Obviously to be made skipper at the end of my career was lovely as well.
The club was a stalwart in the history of English football. For the ten years I was there it was the epitomy of consistency. Probably the most disapponting thing at the end of it was Heysel because I was the one who was going to lift the trophy.
From Northampton to Liverpool
Paisley often used to pay to go through the terraces and talk to people about the players like: 'What's that Phil Neal like?'. When Bob Paisley saw me for the last time at Northampton he brought a LFC director with him, mr. Sidney Reaks. For the first twenty minutes I played at right-back but rest of the game I played in goal. Bob said: 'We came all that way to see you for the last time. I wanted to show my director what good right-back you were. The keeper got carried off and you put the green jersey on.'

You were playing in third division with Northampton yet it didn't seem such a great jump for you to top flight football.
I had played 260 odd games for Northampton and one of the reasons I got better into the first team than Terry McDermott, who was more experienced than I was at this level, is because I could play left-back which I did for 18 months instead of Alec Lindsay. Don't forget I played in all the positions at Northampton. One season I started as a forward and scored 8 goals in 9 games. I could see all the paper snippets: "Newcastle interested in the goalscoring sensation." Then there was a injury down at the back and I had to move back. I was fuming. It's going to ruin my career, I could have had 16 goals before Christmas.
That debut game against Everton
Bob Paisley was a clever man in every shape and form. He led me to believe I was playing with the reserves on Friday against Everton reserves at Anfield. So my boots were put out with theirs. He got Tom Saunders to come to my digs near Melwood, pick me up 11 o'clock. We went to Anfield and I picked my boots up and I went to Everton through Stanley Park with my boots under my arm. As soon as I got into the dressing room at Goodison Park where Liverpool's first team was due to play Everton, Bob just said: 'Get ready to play, son.' And I thought, 'if you can face this, you can get through everything, 56,000 people shouting and bullying at you.'
I was marking John Connelly on the day so this was one of those days, you thought, come on, this is one of those days you start to come of age. I was 23, not a teenager. Cally was brilliant on the day: 'I'll be around always for a pass even if it's tight. I'll give it back.' It was great really. I remember towards second half I actually had a shot that whistled over and I thought I can handle this. That was that spirit that kept me through that game that really got me into the team lock, stock and barrel. They saw that I could play.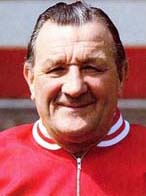 Bob had taken over from this God-like man Bill Shankly. Bob got used to the job and his association with Geoff Twentyman to bring in talented kids paid dividends and another man who was important to Bob Paisley was Tom Saunders. He confided in him with whom he was going to replace Kevin Keegan with in '77. It transformed the club again. He was never afraid. What I liked about Bob that he was never afraid to break up a winning formula. Whatever he achieved he was always looking to strengthen. We knew we were going to get a new face in pre-season. I signed in October. Ray Kennedy had been brought in the summer as Bill Shankly's last signing. Terry Mac came after me. An established player in midfield, runs ahead of the ball. Then there would be another one before the end of the season, usually before March. That was the pattern every year. Whatever you won you knew somebody was going to come in and take your place.
You could either stay and fight or as I saw other people just leave. Joey Jones left when Alan Kennedy arrived. Soon as Ray Clemence knew Brucie was in the frame he was off. Steve Nicol was bought in '81. He was after my shirt. I played to 1985-86 and that was the stubborness I had from Northampton hardship days where I wasn't going to let the likes of Stevie Nicol take my shirt. He can have another shirt but he's not having mine. He was good enough player to play somewhere else.
They brought Souness in, the team got better. Lawrenson came in, you're getting better. He used to bring in good people. They were not fly-by-knights which was an expression Bob used to use. They'll be focused. Of all the players there weren't many who didn't make it. Frank McGarvey went back very quickly. Michael Robinson didn't really make an impact. They're fine when you're winning 1-0 or 2-0 but who's going to make you recover from a one goal deficit or losing 2-1 with 10 minutes to go. We prided ourselves in always believing we could always get that equalizer. It didn't work sometimes but we always scored in the last 10 minutes.
Every day was fun. It was a giggle most days. The seriousness came when Bob presented his team-talk. It wasn't very long but it was always about how good we were. Never much about the opposition. They didn't want to frighten us. I relate Bob Paisley's reign to the history of Julius Caesar. He came over from Rome with all his troops. He got all the way up to Scotland. We were the same in reverse going to Europe. We were the army that was never really fearful of going into the Nou Camp to beat Johan Cryuff there on the night. We had some glorious wins. It was a good learning curve.
Bob made us laugh probably more than you realize. He had distrust for people. In Dresden for instance. At half-time somebody was going to pour the tea from an aluminium pot and he said (Neal does an impressive Geordie impersonation of Bob): 'No, you're not drinking that.' What's he going on about? 'It's bloody drugged. Well, you're laughing. This room is bugged as well. Come on, we're going outside.' And he went and took us outside for our team-talk. This is a serious game in the last sixteen of Europe. We're in stitches of laughter when you should be told about the opposition. It relaxed us as well. That's the happy giving-them-nothing-information. I've been with managers at international level that give you too much information. They tip you over the edge. We never did that at Liverpool.
I got a lot to thank Bob for. As well as being Bob's first signing it was a great honour to have accumalated all those those championship medals in such a short period.