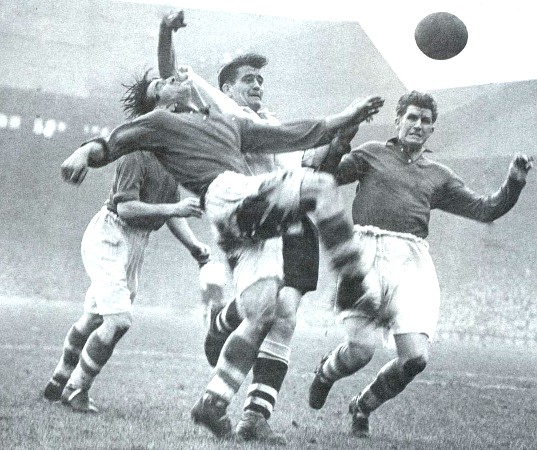 As well as being Liverpool's most successful manager Bob Paisley played 277 games for the club. He never gave in for Liverpool's cause either on or off the field and described himself as "aggressive but I played the game because I loved and enjoyed it. I might have hurt people and I got hurt myself a few times, but not with any malice. When I went on to the field I just wanted to play football. I didn't go out to kick anybody purposely. I just enjoyed playing and if that's aggression, then I'm guilty of that."
This article written by Leslie Edwards in the Liverpool Evening Express on 1st of November 1948 gives a prime example of how tough he really was.
When they elect the Footballer of the Year at the end of the season, they will doubtless choose some much publicised figure, glamorous for a succession of caps and other football brilliancies which seem to count for all today. It will surprise me if they so much mention the name Robert Paisley (Liverpool) but if they did it would be the finest tribute to the vast mass of club players. For this reason: Paisley in a football sense is one of those players who gives his all till it hurts. Even then he refused to lie down and be treated as casualties usually are.

Struck on the side of the head and concussed by a tremendous shot by Dodgin, early in the match at Newcastle, Paisley was knocked unconscious, but resumed at outside-left. Ten minutes before the interval, he was so shaky trainer Shelley had to carry him off. During the interval the unusual method of walking him up and down outside the main grandstand was used in hope he would "come to". Having seen this, I was amazed when nine minutes after the match had restarted, Paisley trotted on again to do useful work at outside-left before trying to head a goal off a Liddell centre and falling unconscious for a second time. Again he was carried off.

Last night from Newcastle hospital, he sounded rather subdued but was still inclined to be as chirpy as usual. X-ray examination of his head, yesterday, satisfied the specialist that all was well. And this main piece of news was something that Paisley asked me to relay to his wife in Liverpool as soon as possible. Today there will be more x-rays, this time of the shoulder and the neck, which is still very stiff and painful, and then all being well, this most likeable little character will be looking for the first train home.

"I remember nothing except the first ten minutes", he told me last night. "When I came to first I was dressed and my father, who had been at the match, was angry with me for going on a second time and for daring to head the ball again. It was hard work convincing him I did not even remember coming back, much less trying to score!"
------- ARTICLE ENDS
Billy Liddell played with Paisley on the right wing for 8 years (excluding their wartime appearances) and appreciated his teammate's qualities:
"Bob was a hard-tackling player and one of the first fellows with the long throw-ins. He could throw the ball from the touchline to the near post, which was a valuable weapon in our armoury. He was an honest grafter and a great man to have on your side, tremendously strong and rugged. He never gave up. Despite his size he was a hard tackler and in those days the tackling was hard. We also used the shoulder charge, which you never see nowadays. When Laurie Hughes was playing centre-half, with Bob at left-half, Bob used to do all the tackling so that Laurie could step in on the ball. I played in front of him for years at Liverpool and it was a great comfort to have him there, pushing the ball through for me."
Bob Paisley served Liverpool from 1939-1992 and was seen as a diminutive competitor on the field, but he truly is a giant in the history of Liverpool Football Club.
Copyright - LFChistory.net - excerpt from Liverpool Echo